Jake P. – San Francisco CA & Semmes AL
1964 Gibson -Epiphone FT79N Texan
Benn,
I'm in love with this '64  WOW!!!!
Jake
note:
Video of Jake's teammates, the MLB World Champion San Francisco Giants singing Take Me Out to the Ball Game…. with Tim Flannery (3rd base coach and customer) and Jake (starting pitcher) both playing guitars from Vintage Licks Guitars.
Jake P. – San Francisco CA & Semmes AL
2006 Collings CJ SB
Man what a dream. This thing is perfect and exactly what I needed to be able to plug in and play when I have too!!!
U have no idea of how happy I am Benn, many many thanks.
Jake P
Jonathan Nicholas / Wales, UK
1936 Kalamazoo KG14
When I bought this KG-14 off Benn, it was my first serious vintage buy, Benn gave great service and took care of me well.
Guitar came as described and was well packaged (surviving the air trip and her Majesties Customs).
The actual guitar is a dream and for a Robert Johnson nut like me it is the perfect sound and feel for his music.
I would recommend Vintage Licks to anyone looking to purchase a quality pre war guitar.
JN
Note:
Jon has purchased 2 guitars from me, the Kalamazoo being the first and the second was an early 1926 L1 flat top.
He performs with both. And Jon keeps some pretty cool company, here he is with his band mates and the Great Spencer Davis!
Brian – Los Altos, CA
2006 Santa Cruz VJ
I love it Benn
It is a fantastic guitar as advertised. It is in great shape. It does have good bass and is balanced. I like it with a capo, I like it in open tunings,
I find the scale to allow string bending.
Lets stay in touch, thanks for the deal.
Brian
Tim Flannery – San Francisco CA & Encinitas CA
1934 Gibson L00
Benn, I love this guitar, thank you, I love knowing it's history , Just awesome …..
Thanks so much, I'm naming her "Louise ".
…. Tim
Please check out Tim and his thoughtful music here: http://www.timflannery.com/
Cool press coverage.
Ralph, Exeter, NH
2012 David Hatchard Custom Built L00
Hi Benn—
Since Luthier Dave Hatchard's productivity is pretty conservative, I feel incredibly fortunate to have scored one of his original L-00 inspired axes. "Little guitar" is an understatement. Might be little, but it's complicated, rich and, because of that Adirondack top, it's authoritative without being brash. This thing's got soul. From blues to fingerstyle jazz, gypsy and even open tunings, it's going to be my new go-to.
All the praises sung on VL's website were right on the money. This is a beauty and its voice and playability are better than I'd hoped.
Many thanks for your prompt, safe delivery of the "Hatchling" …and your flexibility and enthusiasm with the deal we worked out.
Keep doing what you're doing!
Best,
Ralph Sneeden, Exeter, NH
> Ralph is a dear friend of Vintage Licks Guitars and accomplished player in our New Hampshire picking circle, Ralph owns other Hatchard Guitars which he commissioned.
Many thanks to Ralph for graciously submitting these fine demo videos, well played my friend!!
Rojo – Bellevue, Idaho
1973 Guild® F-20 "Troubadour" Shade Top
Benn!
Received the guitar today and just now I have been able to sit down with it!
Thrilled!
Guitar is just as you described online and in our conversation! Set up perfectly and digging the tone, feel of it! Also, packaged professionally and the ease of the transaction was amazing.
I don't really buy guitars online…but I will say I am going to keep track of what you are doing. And nice talking to you…real cool thing you got going.
Thanks again! And best of luck on your future guitar searches!!!
Cheers!
Rojo
Note:
Check out these cats cool original Southern Idaho Folk & Roll Band…. Up a Creek
Find their music and give them a listen !!  http://www.cdbaby.com/cd/upacreek  and at Amazon &  iTunes.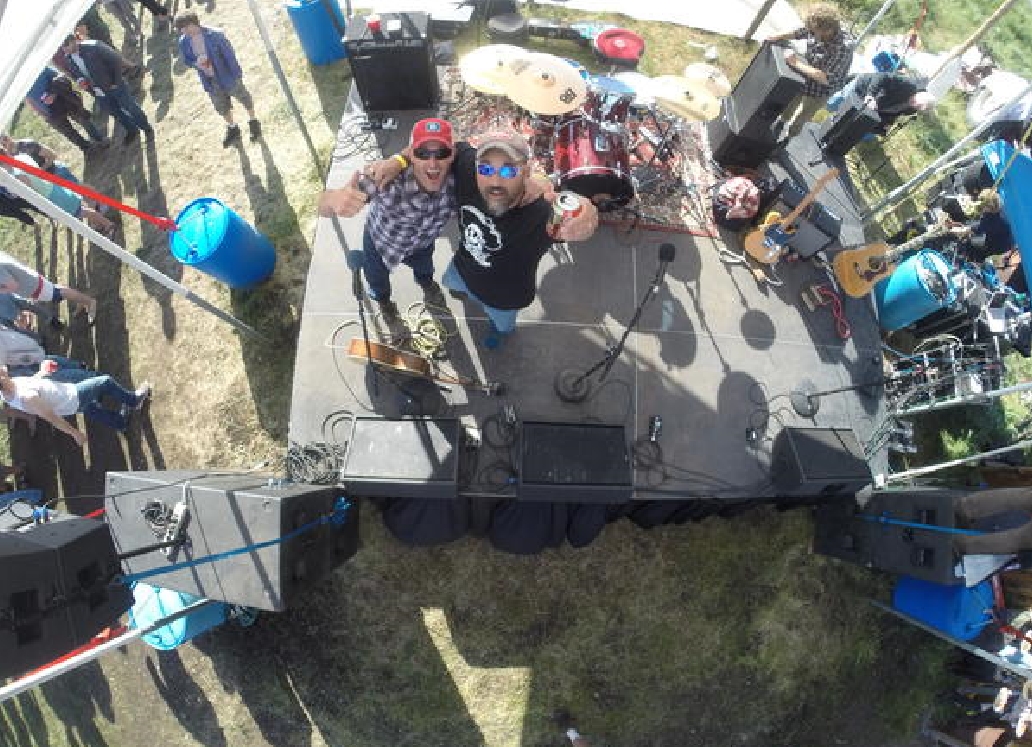 Hans – Elgin, Oregon
1939 Gibson HG00
Dear Benn
Got it, just spent the last couple of hours with it.
No problems found so you can consider it sold.
I very much like the wider neck. It's such a small difference in terms of actual measurement, but it feels very roomy. Looking at those numbers I was afraid it would be unnoticeable, but it's quite different. Only found a few fingerings where it felt kind of far across and many, many where it just feels less cluttered. So that's a big plus.
The neck thickness is a little more then I'm used to, but it is well within what I like. I think that the V shape might end up being a plus because it seems to starting to feel that I'm getting more signals about the position on my hand right to left.
The twelve fret neck is interesting. I mostly wanted that for the sound, but it has some effects on playing. Down in the first position it is really very comfortable, as I'm not a large a person. Just a nice size guitar for me. When I get up around the tenth or twelfth fret (the neck is still nice and thin, btw) my elbow is a lot tighter to my body then I'm used to, so my hand isn't rotated quite the same and I miss some fingerings. Hadn't thought of that in advance, so a little getting used to there. Nut to bridge is an inch or so shorter, so I have to pay attention if I jump up a bunch of frets, but I think the automatic brain to hand system will fix that quickly.
Almost 5″ shorter the my other guitar and almost 3″ less wide and 3/4″ thinner. The other guitar is an old Guild that has kind of J-200 dimensions. This guy is a lot more fun to hold, I must say.
The sound is also good. Actually quite mellow when played softly, and then rawer as you play louder. Sort of like a saxophone, it has a different sound when you push it. Kind of squawks. I think I'll start taking advantage of that soon. My other guitar just sounds louder when you get more vigorous unless you really whack it and get fret buzz.
It sounds pretty loud, especially for its size. I think that is because of the 'better' position of the bridge from the 12 fret neck, but not having a L-00 to compare it to I'm not sure.
Bass is a little stronger then the mids right now. But I think that is the age of the strings. They are at that stage where the high strings have mellowed but the bass still sound new. Teenager strings. Also I use finger picks so those bass strings have to get worn flat a bit to for the pick noise to subside. I always have liked kind of dead strings, so that should take care of it self soon as they all settle down.
I saw you took the strap pin out of the bottom for shipping. I saw a real horror show of pictures of a guitar that had been shipped with that in place and split up both sides. Clear up, like in two pieces on both sides. I meant to mention taking the pin out, but it slipped my mind. You must have shipped a few guitars before…
I still don't like the idea of buying a guitar I haven't played, but you did everything you could to make the process work well.
Thanks again,
Hans
Antonio – Roma, Italy
1930s G&S case
Hi Benn,
The 1930's G&S Geib case has just arrived at my home very nice and clean. All is OK.
Thank you so much for care you've shipped and the kind thought regarding the package I've found in the lobby closet with two Black Diamond String of the National Musical String Co.
I am very grateful to you for your kindness. It's been a surprise for me. Hope to make a deal with you in the future.
My best regards to you and family.
So long, Benn,
Antonio.