Christophe Grellier – Chéméré France
ca 1940 Gibson-Kalamazoo KG12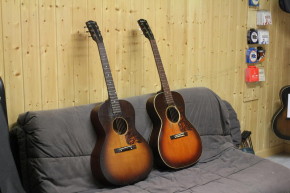 Here it is ! I received it this morning. Really nice guitar, perfect condition. My L-00 is so happy to have a little sister ! Thank you so much for your business.
Best regards,
Christophe (Luthier-Builder) | www.grellier.fr
Matt – UK
'63 Gibson Hummingbird
Hi Benn,
Guitar just arrived and sounds great, many thanks.
Will get some CDs in the mail to you,
Matt – UK
(3 time buyer)
Toby Walker – New Jersey
1944 Gibson Banner LG2
Subject: Re: Thanks Dave
Hi Dave, Benn
I went down to the Post Office and picked it up. Put a fresh set of strings on her and she's singing real fine.
Thanks again guys.
Toby
Here's my web page featuring the guitar. I also included a video that I think you'll enjoy. Thanks again for bringing this guitar back to life.
Toby
---
Subject: Thanks Dave
Hi Dave,
I wanted to thank you for taking the time to do that extra bit of work on that 1944 LG-2 Banner I just bought and for shipping it out promptly. This will be the third guitar I've purchased from Benn who I consider to be a very knowledgeable and reputable dealer. It's nice to know that he has a guy like you looking after the guitars.
Best always,
Thanks Toby,
Ben is  adamant on every guitar being set up properly.
I put a slightly taller saddle in the LG-2. The action is now right on. It plays nice and has that sweet tone, typical of Gibson Mahogany topped guitars
I will send tracking number tomorrow.
Dave
Note: Besides being such a fine player and treasure, my friend Toby is a very knowledgeable collector and customer and a true pleasure to work with … here is a post he made at the Gibson forum regarding this LG2
http://forum.gibson.com/index.php?/topic/105933-showing-off-my-44-banner-lg-2-pics-description-and-video/
Thank you Toby,
Benn – VLG
About Toby Walker:
United States and Canadian Representation:
McShane Glover, Noteworthy Productions, Annapolis, MD
U.K representation:
Radio Promotion:
Norman – MEPPEL Nederland
1934 Gibson Kalamazoo KG11 Shade Top
I have received the guitar yesterday evening! It´s a wonderful guitar! It sounds incredible and it has its own sound. I am very happy with it.
I want to thank you for this guitar, all the free picks, humidifier and of course the wonderful guitar case.
But most of al I want to thank you for the excellent service and taking such good care for this guitar (very well packed).
I will recommend you to all my fellow guitarists!
Bill – San Francisco California
Kalamazoo KG11 and advise on a very good L00 he found and purchased elsewhere.
Brother Benn!
Thank you so much man – you are too kind! I sure do love my Kalamazoo, and I am diggin' in deep with my L-00 as well. I really appreciate you giving me such sound advice on which guitars to go after. It is such a righteous experience to play those Blind Willie and RJ tunes on these old guitars. How often in life does something sound "right"?
Let me know if you're ever out my way – the beers are on me!
Bill
Bill Phillippe is a fabulous San Francisco based singer song writer and professional musician. He produces some wonderful records that I value and keep cued up at home and in my car!!
Visit Bill here: http://billphillippemusic.com/home/
Jim – North Carolina
ca 1936 Gibson L00
Benn…..she's a keeper…all checks out well….great sounding ….one of the best I have played from a sound/tone perspective….
Andrew – New York City
1936 Gibson Kalamazoo KG14
Just wanted to let you know the guitar arrived safely! I'm very happy with the guitar, got to fiddle with it a little more and I do love it!
Motoki – Tokyo, Japan
1940 Gibson Recording King Jumbo
Hi Benn, I've already received the guitar and this is awesome!!
Thanks a lot!
Eric – Mountain Lakes, New Jersey
1936 Gibson Kalamazoo Carson J Robison KG14
Benn: Got the guitar- great! No problems. Thank You!