Bill – San Francisco, CA
ca 1935 Gibson-Kalamazoo model KG11
Lionel – Vouzon France
ca 1944 Gibson Banner - J45 Spruce Top
Hello Benn,
I received the guitar this morning (no taxes to pay ????!!!) and I tryed it quickly…. WHAOUUUU what a beautifull sound and fantastic look. I'm the most happy guy in France with this guitar in my collection.
Thank you for all,
Lionel
Takeshi Hayakawa – Blue G-Tokyo Japan
Collings CW MHSB, Gibson L00 and some others.
Hi Benn,
Thank you for your e-mail.I received the e-mal from Mr. Ota in Chicago that he received the guitar yesterday.
It is always a pleasure doing business with you.
We will keep in touch.
Thank you and best regards,
Representative for Blue-G
(US Rep for Blue G guitars in Tokyo, whom I've sold a few guitars)
Paul – Perth Australia
1944 Martin 00-18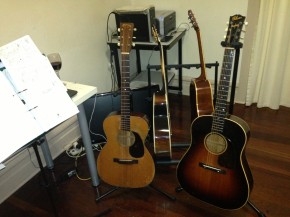 This little thing is such a joy to play.  When all the others are tucked away safely in their cases (I do play them all btw), the one I really want to play is the Martin!  I leave it out and ready to go at all times.    I never feel it's a chore practicing with it, I love the sound, and I feel I can play it longer than any of the others.  I also feel the sense of history coming out of it as I do with the J45.  The Martin was arguably the best guitar (for me) I ever bought – I can hardly put it down – no joke.
It is really helping the cause….
Paul
Andy – Southgate, MI
1934 Gibson Kalamazoo KG11 Small Sunburst
Hi Ben, just got it home today.It plays beeeeutifuly!For some reason the chords I find hard to lay down on my other guitar are a breeze on this one.Much louder than I expected.V neck might even be better.I'm very pleased with the guitar and well worth the money and it can only increase in value over time.
Again;thanks for everything Ben.
Take it off hold-it's SOLD!
Andy
Tosh – Shinjuku-ku, Tokyo Japan
2011 Collings OM1 A Cutaway
Hi, Benn. I just received it. I was out of town and had to hold it at local post office for few days. Nicely packed and no issues.
Thank you, David! Excellent guitar. I love Collings and I usually prefer Ebony fingerboard feel but this one feels really, really good. I will enjoy it very much.
Thank you, again, and hope we have more transactions in the future.
Tosh
Dave – San Francisco, Ca
1933 Gibson – Kalamazoo KG11
The guitar arrived yesterday intact.  We spent the evening getting to know each other.  You're not getting this one back! 
Thanks again for everything,
Scott – Santa Monica CA
ca 1935-40 Dobro M35 Fiddle edge
Paul – Perth Australia
ca 1944 Gibson Banner J45 with Maple back & sides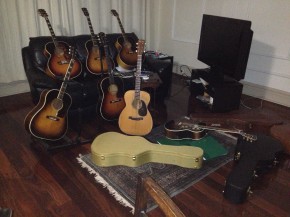 Benn-
I've never had the privilege to own such a nice guitar before. I have a couple of others which cost way less and I wasn't sure I'd really hear that much of a difference. Ah but I do! I'm really happy with it. That's an understatement! This thing "sings".
Thanks amigo,
Paul
ps – If you have another Gibson (or maybe a Martin?) in the same sort of league give me a shout. I'll keep an eye on yr website in the meantime.
Note: I've sent Paul 4 guitars, all with out issue to Perth Australia. Paul is a knowledgeable and friendly player – collector and I'm so happy to be friends with him. Thank you Paul!!