Cool Guitar art….
Jos- Netherlands / 1936 Kalamazoo KG11
Hi Benn,
The KG 11 has arrived and made it overseas. After rewarming voor 24 hours did strung up.
It seems everything is sound.
Just, have to get its tune back.
Thank you and I am happy with it and will be around with my Kalamazoo once again.
Great job!
Cheers !
Jos
(4 time buyer)
Julie – Alaska
Vintage Buck Jones Guitar Case
Hi Benn,
I would never have been able to orchestrate this surprise Christmas gift without you! I was searching for a vintage Buck Jones guitar case for my husband's 1939 Buck Jones guitar (named "Bucky"). My search was to no avail until I heard from you. Thank you so much for locating one, making a purchase deal for me, and also making all the arrangements for payment and shipping to Alaska! All I had to do was be absolutely amazed when the guitar case arrived on Christmas Eve when I wasn't expecting it for another week or two!
Here is a photo of my happy guy, Greg, with his Lil' Bucky and the case.
Julie in Alaska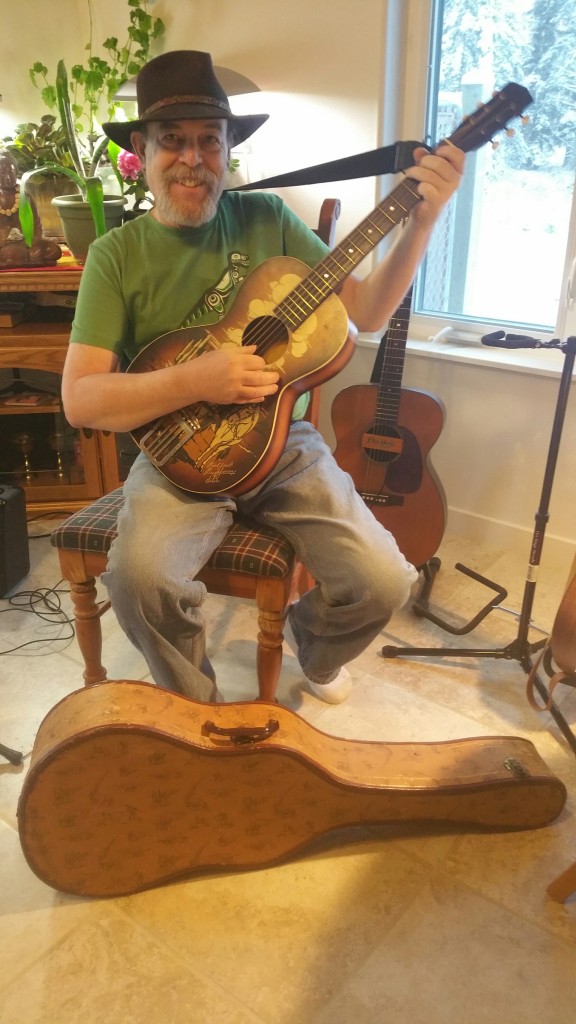 Doc Stewart – Conway Arkansas
David Hatchard - Custom Mahogany Dreadnought
Greg Bowles – Western Australia
1938 Gibson - Kalamazoo KG14
Hi Benn,
The KG14 has arrived safe and sound.
Thanks for making my first vintage guitar purchase such a positive experience the guitar is exactly how you described on your site and I love it and I certainly would be happy to do business with you again.
Cheers,
Greg.
An accomplished bluesman, please check out Greg…http://www.reverbnation.com/gregbowles
Cassidy – Delray Beach, FL
circa 1943-44 Gibson J45 Banner
Hi Benn,
Just wanted to let you know how much I am enjoying the J-45 I got from you a few weeks ago. This is the perfect one for me with just the tone I had in my head & was looking for.
It is sitting out with a bunch of other vintage Gibsons & Martins & it has really become my go-to guitar – it gets picked up first, it is so versatile & sounds so good.
Thanks for a very smooth transaction, a very fair price & hooking me up with the "perfect" old Gibson.
Best,
Cass
Tommy Webb – Langley, KY
Gibson Badged Faux Alligator J45 Guitar Case
Benn, just letting you know I got the j-45 case, it's great and I love it.
Thanks so much,
Tommy
Check out Tommy's cool Kentucky Bluegrass Band …  http://tommywebb.fanspace.com/